Meal Planning vs. Meal Prepping (Know the Differences!)
Let's be honest. Planning your meals can be overwhelming, and you may end up getting takeout to save yourself the hassle.
If you believe that your diet could be healthier if you cooked, but you resort to takeout often, feel unprepared even with available groceries, and hate thinking of what to make for dinner, you may want to try out meal planning prepping.
Meal planning and prepping are excellent ways to prepare nutritious, healthy home-cooked meals. However, meal planning is different from meal prepping.
Our detailed guide dives deeper to explore the differences between meal planning and meal prepping. We also highlight some practical tips on how to get started with both.
What is Meal Planning?
Meal planning is the act of choosing the meals you'll have in advance. You will write down the meals of the week or month ahead of time.
With meal planning, you already know what to eat, so you won't spend money dining out or picking up unhealthy snacks on your way to work.
What Are the Steps of Meal Planning?
Meal planning can feel overwhelming when you start thinking of the end product. Following the three steps below can help make the process manageable.
Here are the three main steps to follow.
1. Choose Your Recipes
Start by selecting your preferred recipes. You can get them from your favorite cookbook or sites like Pinterest or Google.
It's best to cook recipes you know and add in one new recipe to switch things up.
You should also pick your recipes based on common ingredients. Determine what ingredients you already have in the fridge and pantry and work around those to avoid wastage.
Choosing your recipes is the first step toward putting your plan into action. Decide on the number of nights you're planning to cook at home and think of what those meals will be.
Writing down what each day's menu looks like makes work easier. Have the list pinned somewhere that you can access and refer to daily.
2. Go Grocery Shopping
Visit a grocery store or head to the farmers' market to get your shopping done ahead of time. You can do this on the weekend to ensure you're prepared for the whole week.
You can plan your grocery shopping ahead of time by grouping your ingredients by their location in the store. Organize those sections based on how you like to shop. Pass by the frozen section of the store last.
3. Prepare Your Ingredients
Finally, you've decided on your recipes, shopped for the needed groceries, and now you need to actualize the plan. Meal prepping helps you reduce cooking fatigue.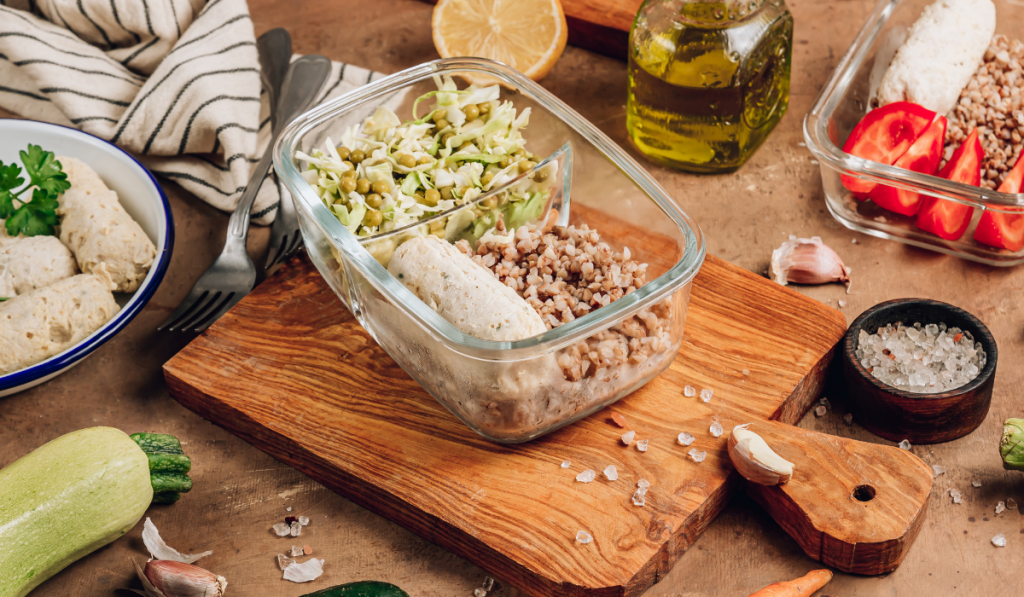 What is Meal Prepping?
Meal prepping means preparing for meals, which can sometimes involve preparing different ingredients to be used in various dishes quickly, and other times it can mean cooking an entire meal beforehand.
Meal prep can include:
Batch Cooking: Involves making several meals, apportioning them, and storing them in the freezer for later use.
Full Make-Ahead Meals: You cook an entire meal and store it in your freezer or fridge.
Ingredient Prep: You get to prepare the ingredients like marinating meat, mixing spices, or chopping veggies in advance to save on the time spent cooking.
The method you choose depends on your routine and end goal.
For example, preparing batch-cooked meals simplifies your evening routine if you have limited time to cook every day, while make-ahead breakfast might save you time in the morning if you have kids to drop at school and work to attend.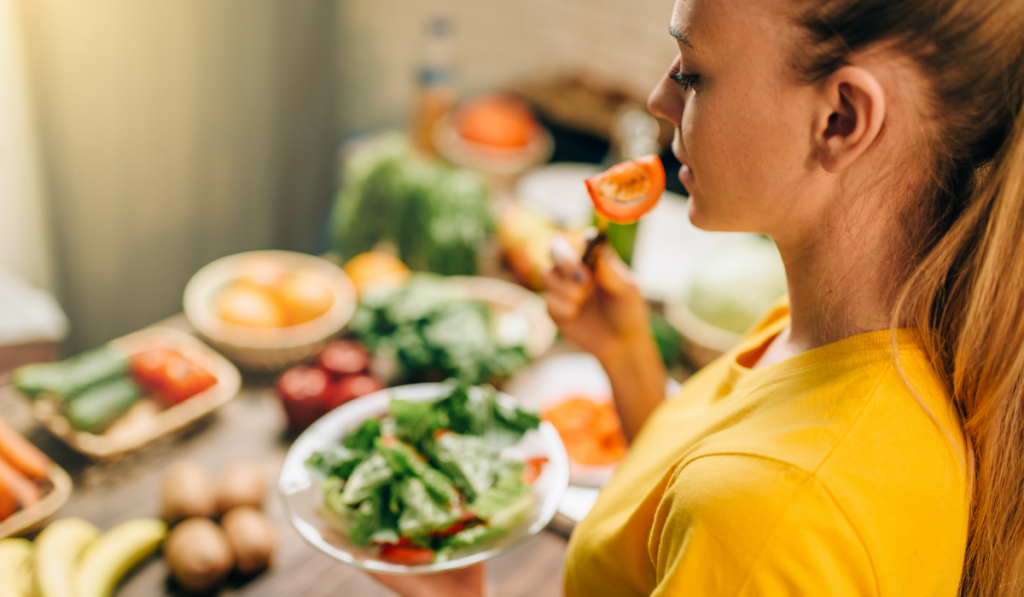 Benefits of Meal Prepping
While the main benefit of meal prepping is saving time, there are other benefits.
1. Enjoy Healthy, Homemade Meals
Meal prepping gives you a healthier homemade option, which means you'll avoid the temptation of ordering takeouts or dining out.
However, you need to properly store your food by allowing it to cool first and then portioning it out into containers.
Allowing the food to cool for at least two hours before putting it in the fridge or freezer is highly recommended.
2. Save Money
Meal prepping means shopping for your grocery list and planning your meals.
How To Meal Prep
As a beginner, meal prep can be overwhelming as you may not know where to start.
Here's an outline you can follow on how to meal prep.
1. Create a Meal Plan
Start by creating a meal plan and listing all the ingredients you'll need. You can use a simple Google Doc to create a chart with the days of the week, mapping out what each of the three meals of the day will look like.
Please note that how you decide to structure your meals will depend on your preferences.
For example, some people prefer to have dinner leftovers for lunch, while others would rather make fresh meals for both lunch and dinner if they have time.
Decide on the meals you'd want to focus on and the meal-prepping method that works for you.
Check your dates and decide on the number of dinners, lunches, and breakfasts to make for the week. Note the days you're likely to eat out or have brunch with friends.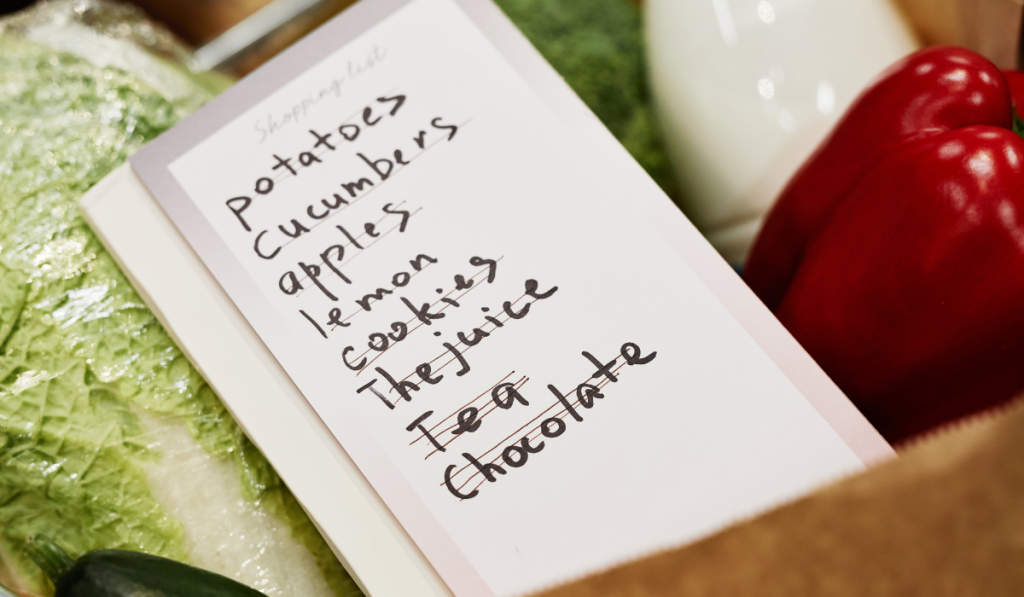 2. Have a Grocery List Ready to Shop Ahead of Time
Write down a structured grocery list and section out each type of ingredient. This will make your trip around the grocery store quick and easy.
Some of the foods that are ideal for meal prepping include:
Seeds and nuts
Fresh vegetables like bell peppers, celery, carrots, kale, and cabbage
Cooked pasta and grains
Cooked beans
Cooked meat
Dips and sauces like sour cream, salsa, or salad dressings
Include herbs like thyme, basil, oregano, cilantro, and parsley. Spices like rosemary, cumin, chili powder, and garlic powder are excellent additions.
Don't forget that there's no rule to follow when shopping for your groceries. Simply pick from the in-season produce.
3. Start Cooking
It's time to cook now that you have your groceries ready and your meal plan in place.
Set aside time to marinate your meats, make a salad dressing, or chop your ingredients. Sunday is a great time to prep your ingredients in readiness for the week.
Start with familiar recipes when deciding which meals to make to slowly ease into meal prepping. Avoid picking one recipe for the entire week as this won't give you the required nutrients and may lead to boredom.
Switch up your meal options by choosing meals that have protein-rich foods, different vegetables, and complex carbs.
Strategies for Successful Meal Prep for Beginners
Here are some meal prep strategies if you're looking to cut down on cooking time and make meal prepping easier and quicker.
1. Create a Consistent Schedule
You might decide to set aside your Saturday afternoon for grocery shopping and meal prepping or settle for Sunday evenings to prepare your lunches for the week. The schedule depends on your weekly routine and your needs.
For breakfast, you can consider having avocado toast with a fried egg, muffins or banana pancakes, fruit yogurt, or a quinoa bowl.
Lunch options can be chicken breast wraps and spinach, brown rice with turkey and vegetables, or a protein-packed salad with lettuce, kale, cabbage, and your preferred seasoning.
For dinner, you can prepare whole wheat pasta with minced meat, chicken breast with vegetables, or a slow-cooked protein dish.
2. Switch Up Your Recipes
Avoid having multiple recipes that require the same cooking appliance, as that limits the dishes you can prepare at the same time.
Have recipes that require different cooking methods, especially if you're batch cooking or preparing make-ahead meals.
For example, you could have soup and a stir-fry cooking on the stovetop and baked potatoes cooking in the oven. At the same time, you can then prepare meals that don't need cooking, like salads.
3. Plan Your Dishes Based on Prep and Cook Time
You don't want to end up mixing a meal that requires a long cook time with one that cooks for ten minutes.
Start with the recipes that take the longest to cook. That might include oven meals or slow-cooking soups and stews.
Additionally, you can compare the recipes you are making and check their ingredients. If both recipes require diced garlic or onions, you can chop a lot at once to avoid doing it twice.
Gadgets like a slow cooker, instant pot, or rice cooker further streamline the cooking process.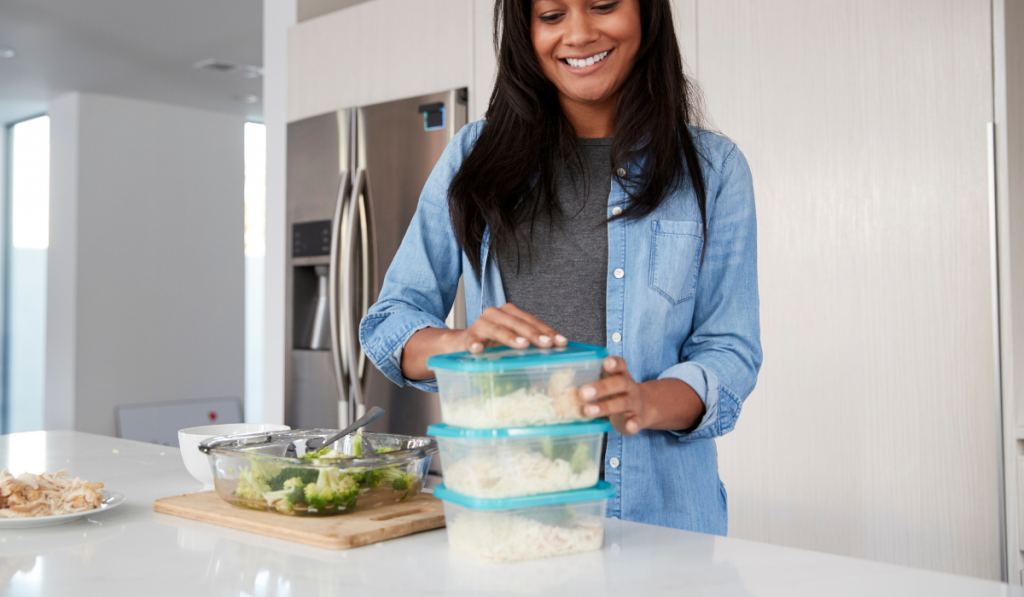 4. Have Your Storage Containers Ready
The right storage containers should help maximize the space in your fridge or freezer.
Look for compartmentalized and leakproof containers for meals that require you to mix ingredients at the last minute.
If you're looking for something microwavable, choose BPA-free containers or Pyrex glassware. Stainless steel containers and reusable silicon bags keep your ingredients fresh and are perfect for storing your ready-to-cook ingredients.
Once you have your containers, you can now apportion your food. Knowing how to apportion your food helps you create nutritionally balanced meals and allows you to see what you need to buy.
Ensure that you balance protein, carbohydrates, vegetables, and fat in your meals. Don't forget to include fruit with your meals.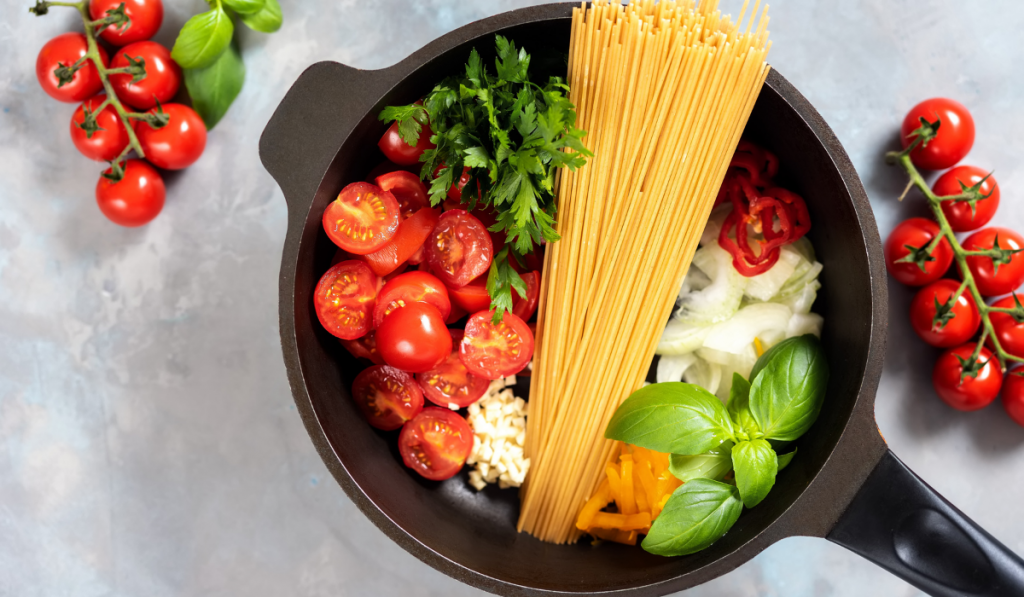 5. Consider Having One-Pot Meals
One-pot meals simplify your meals and make the cooking process more manageable. They also mean you won't have a lot of dishes to clean up.
Common Meal Prepping FAQs
Below are some questions you may have about meal prepping.
1. How Long Does Meal Prepping Take?
Meal prepping can take 30 minutes to a couple of hours. The time depends on how much you want to prep.
Additionally, preparing your ingredients ahead of time could save you time. As you get accustomed and comfortable with meal prepping, you'll take less time to cook your meals.
2. How Long Can Prepped Meals Last?
The quality of your meals will depend on how you've packed them and the refrigerator environment. Note that food stored in the fridge slowly declines in quality over time.
It's best to start with small batches. You can meal prep for four days in a row if you're planning on eating out for the rest of the week. Alternatively, you can check for leftovers to compensate for the remaining days.
Throw out leftovers that have stayed for more than four days. Although you can easily spot spoiled or deteriorated leftovers, it's not easy to tell food has bacterial growth.
Toss it out when in doubt.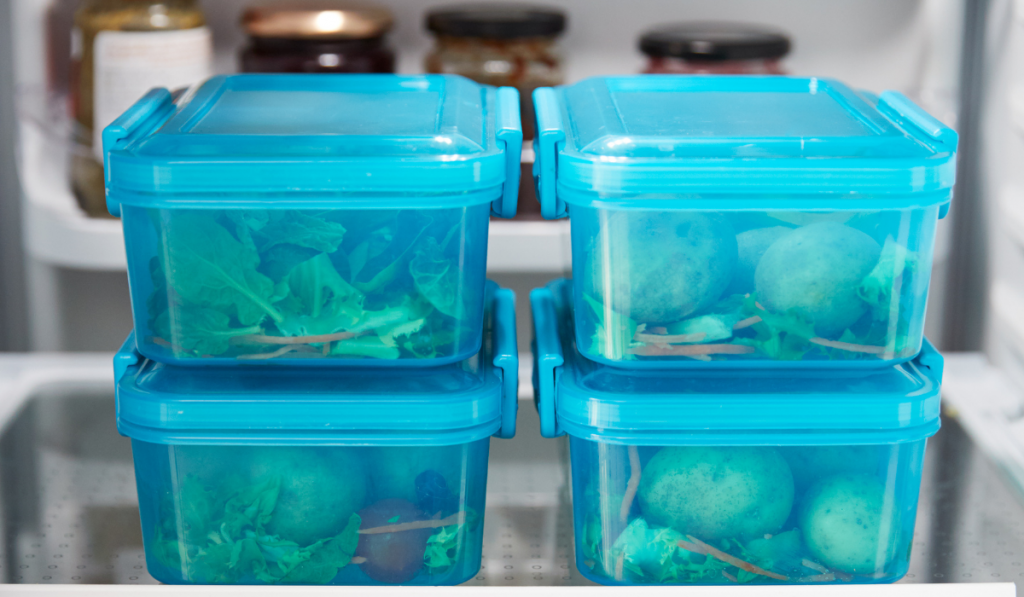 3. What Containers Work Best for Meal Prep?
Freezer-safe containers with airtight lids are recommended. You can use wax paper and aluminum foil to separate ingredients, depending on your recipes.
Meal prep containers are available in major grocery stores like Walmart, and you can also get them online on sites like Amazon.
4. Will Meal Prepping Help With Weight Loss?
Meal prepping allows you to stay organized, track your meals, and use healthy ingredients. All of these can help with your weight loss goal.
Nonetheless, you need to master your portion control to track your calorie intake, which is critical when planning to lose weight.
5. Will Meal Prep Work With My Diet?
You can tweak your recipes to meet your needs, whether you are on a keto, paleo, vegetarian, Atkins, or plant-based diet.
Final Thoughts
Meal planning is different from meal prepping in that it involves thinking of what to eat in advance for the next meal, day, or week. Meal prepping involves meal planning but also involves the actual act of cooking. You get to set aside time to prepare the planned meals.
Resources