11 Easy Vacation Meals for a Group (How-To Guide)
Many people find it exhausting when they have to cook meals for a group while on vacation. The trick is to find out the easiest and most crowd-pleasing meals that you can make.
If you can figure out some easy vacation meals for your group, you will make your vacation much more relaxing than you think.
Here are 11 easy vacation meals for a group and instructions on how to make them.
Tacos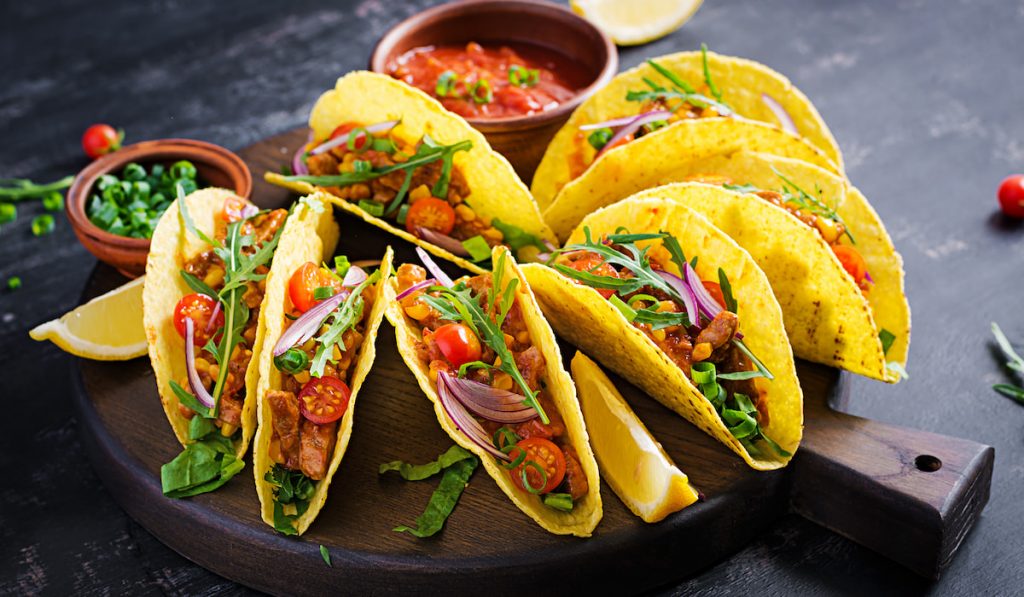 Tacos are a great and very easy vacation meal option for a group.
The best thing about this meal is that each person gets to make their own tacos the way they like them. All you have to do is prepare the ingredients.
Ingredients You Will Need for Group Tacos
Ground Beef or Ground Turkey
Taco Mix Packets (1 Packet Per Pound of Meat)
Cheese
Tortillas (Soft, Crunchy, or Both)
Sour Cream
Lettuce
Guacamole
How to Make Tacos
The easiest way to cook the meat for a large number of tacos is to brown and crumble the ground beef, then add it along with taco mix packets and water to a crockpot. I would say you will need 5 pounds of ground beef per 10 people that are in the group.
After the meat is cooked, keep the crockpot on low while you prepare all the taco fixings. You should be able to find prepackaged cheese, sour cream, guacamole, and shredded lettuce to make things easier.
Heat the tortillas up in the oven. For soft tortillas, keep the stack covered with aluminum foil after you take them out of the oven to keep them warm.
Place all the other ingredients in bowls on the table and serve!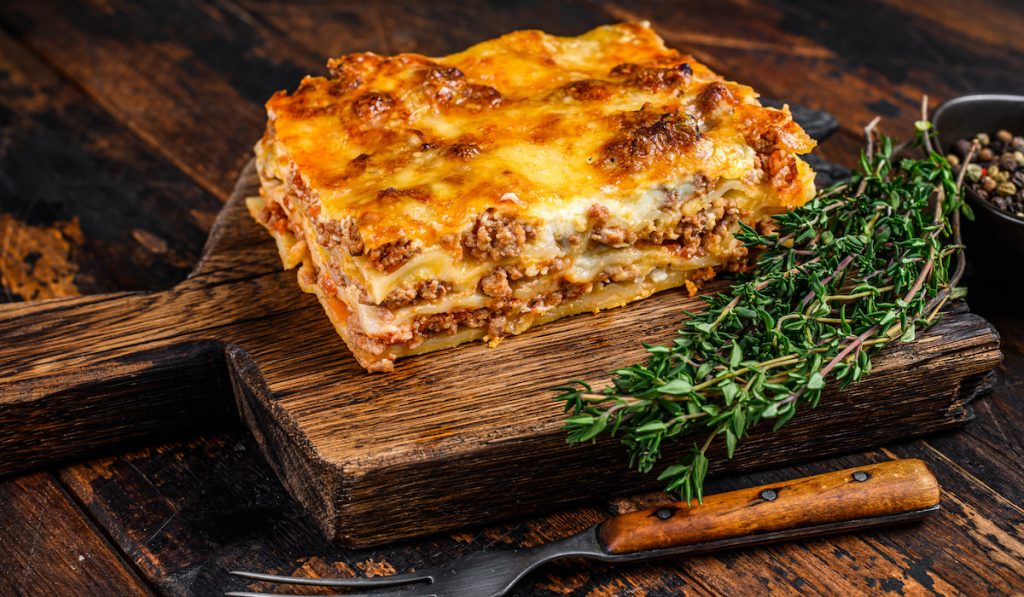 Lasagna
Lasagna is another easy vacation meal for a group, although it may seem harder than it actually is. For the number of people you can feed, it is a pretty easy group meal.
Keep it simple to keep everyone happy. Don't use ricotta or mushrooms in this lasagna unless everyone is on board.
Many grocery stores sell oven-ready lasagna noodles, so there is no need to cook the noodles beforehand. Buy prepackaged mozzarella and Italian cheese as well as a pre-made marinara sauce to save even more time.
Ingredients You Will Need for Each Pan of Lasagna
1 Pound Ground Beef
45 Ounces Marina Sauce
16 Ounces Mozzarella Cheese
1 Pack Oven-Ready Lasagna Pasta
How to Make Lasagna
Brown the ground beef.
Apply a thin layer of marinara sauce to the bottom of the lasagna pan (just enough to cover the pan, as you will continue layering as you go).
Next, put a layer of oven-ready noodles over the sauce.
Then sprinkle some ground beef on top of the noodles. Again, not all of it, just enough to cover, but not completely.
Lightly pour or spoon some marinara over the ground beef.
Add a layer of cheese.
Then add a layer of noodles and repeat: beef, sauce, cheese. Continue until you fill the pan or run out of noodles. Save enough cheese to put a generous layer on the very top of the lasagna.
Bake at 350°F for 45 minutes to an hour or until the middle is soft when you poke it with a fork. (If it is soft in the middle, the noodles are fully cooked.)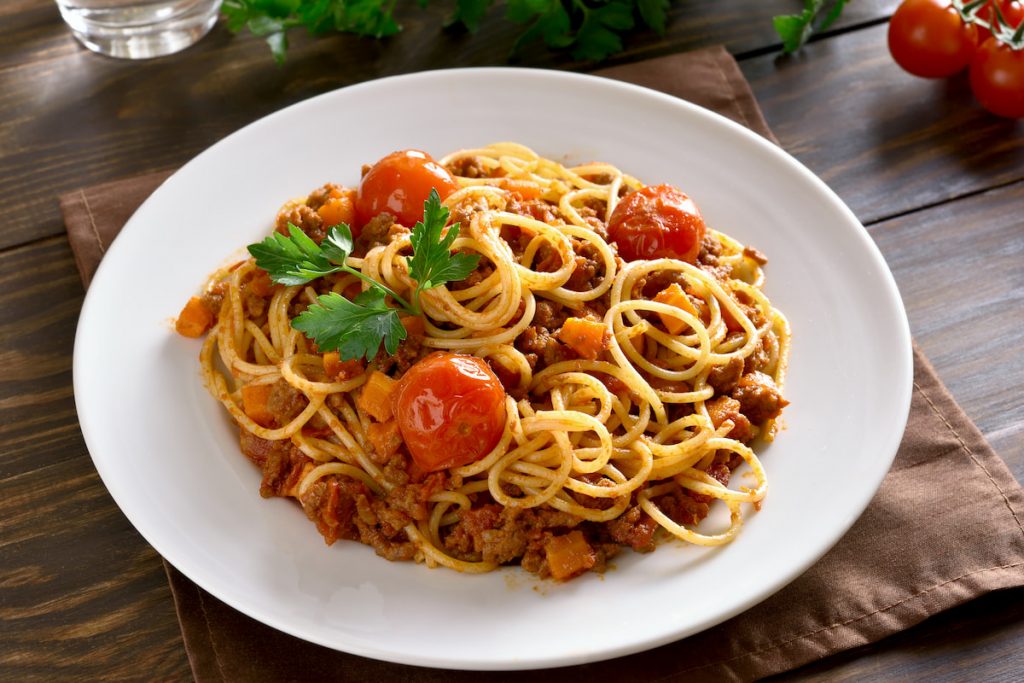 Spaghetti
A tried and true vacation meal for a group is spaghetti. All you need is four simple ingredients.
The ingredients below will feed about six people, so plan accordingly.
Ingredients You Will Need for Spaghetti
1 Pound of Ground Beef
45 Ounces Marina Spaghetti Sauce (1 45-oz Jar)
1 Pack (16 ounces) Spaghetti Pasta
1 Grated Parmesan Container
How to Make Spaghetti
Brown the ground beef into crumbles.
Mixed the ground beef and spaghetti sauce together in a saucepan.
Cook the spaghetti noodles according to the directions on the box.
Keep sauce and noodles separated so the group can mix the two according to their preferences.
Serve the parmesan as a garnish.
Hawaiian Ham Sandwiches
Hawaiian ham sandwiches are a hit at Christmas parties, but they also are great for group meals.
If you have not made these before, have no fear, they are easy. The recipe below will make 12 rolls, so it should feed about five or six people.
Ingredients You Will Need for Hawaiian Ham Sandwiches
1 Pack of Hawaiian Sweet Rolls
1 Package of Deli Ham
At least 12 Swiss Cheese Slices
Dijon Mustard
Potato Chips
Ingredients You Will Need for the Sauce Mix
2 Teaspoons Worcestershire Sauce
1 Stick Melted Unsalted Butter
2 Tablespoons Poppy Seeds
Sprinkle of Salt
Pinch of Pepper
Dried Minced Onion
How to Make Hawaiian Ham Sandwiches
Take the whole connected group of rolls out of the bag and do not separate.
Slice the length of the whole "loaf" down the middle.
Layer from the bottom with Dijon mustard, then ham, then cheese, then ham again.
Top with the top half of the rolls.
In a bowl to the side, mix the sauce mix ingredients together.
Spread the sauce mix over the rolls. Use a spoon or spatula to spread.
Cover and let sit for at least 10 to 15 minutes to allow the juices to set.
Cook covered at 350°F for 20 minutes.
Uncover and cook for 3 more minutes.
Allow cool and serve with chips!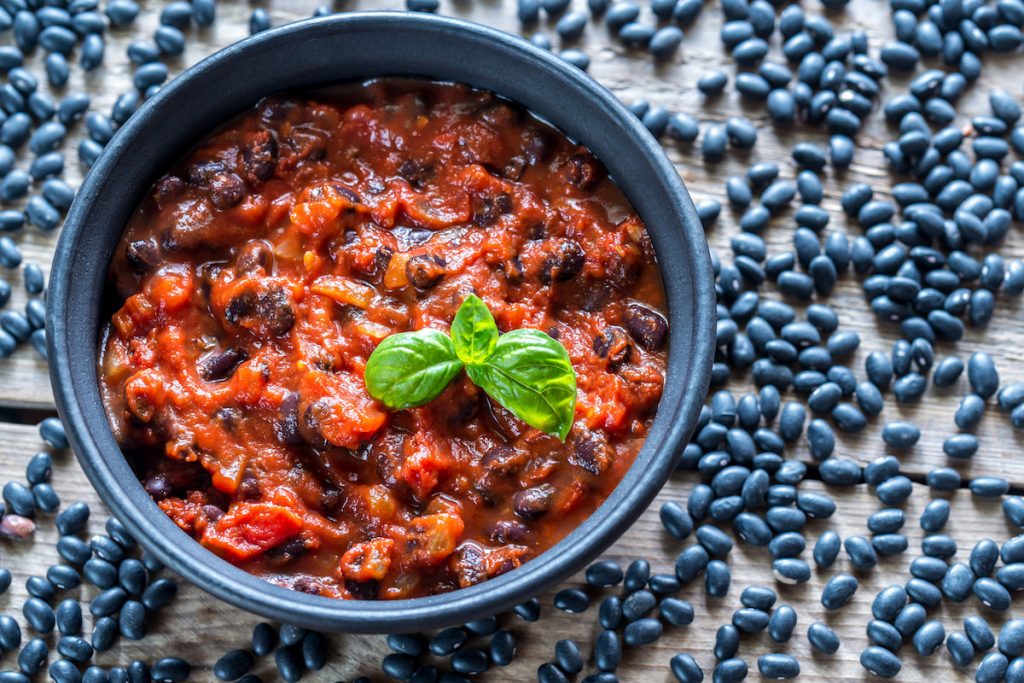 Chili Beans
Chili beans are a hit among most groups. They are tasty and super easy to make if you get prepared ingredients.
Ingredients You Will Need For Chili Beans
2 15-ounce Cans Pinto Beans
2 15-ounce Cans of Kidney Beans
1 Pound of Ground Beef
1 15-ounce Can of Diced Tomatoes
1 Package Dry Chili Mix
16-ounce Container Sour Cream
2 Cups Shredded Cheddar Cheese
How to Make Chili Beans
Brown ground beef and crumble.
In a large stockpot, combine each can of beans and tomatoes without draining them.
Add the ground beef and dry chili mix.
Bring to a simmer on the stove and then turn to low.
Serve in large bowls and top with a dollop of sour cream and a sprinkle of cheese.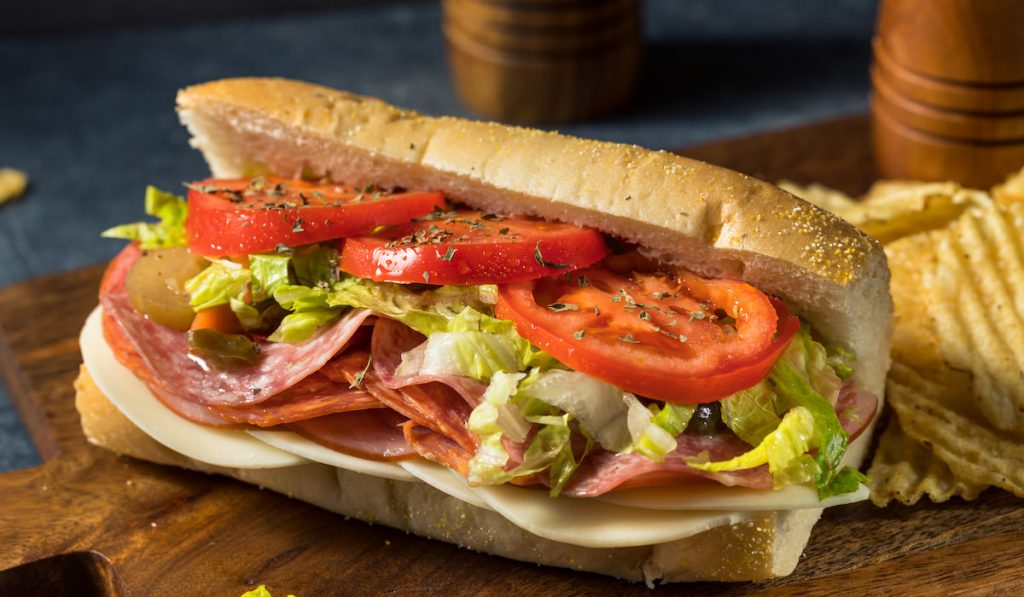 Hoagie Sandwiches
The great thing about hoagie sandwiches is that not only will they feed a group on vacation, but they are also super easy to prepare.
Really, all you have to do is set the ingredients out and let people make their hoagies themselves.
The other great thing about hoagie sandwiches is that you probably already have several of these ingredients in the fridge, even on vacation. And there will probably be leftovers for lunch the next day!
Ingredients You Will Need for Hoagie Sandwiches
Hoagie Rolls
Deli Meat, Various Options
Deli Cheese Slices, Various Options
Mayonnaise
Mustard
Lettuce
Tomato
Salt
Pepper
Potato Chips
How to Make Hoagie Sandwiches
Making hoagie sandwiches is simple.
Slice the tomatoes and make sure the lettuce is in sandwich-sized pieces.
Set out all the ingredients so that people can easily make their sandwiches.
Serve with chips and enjoy!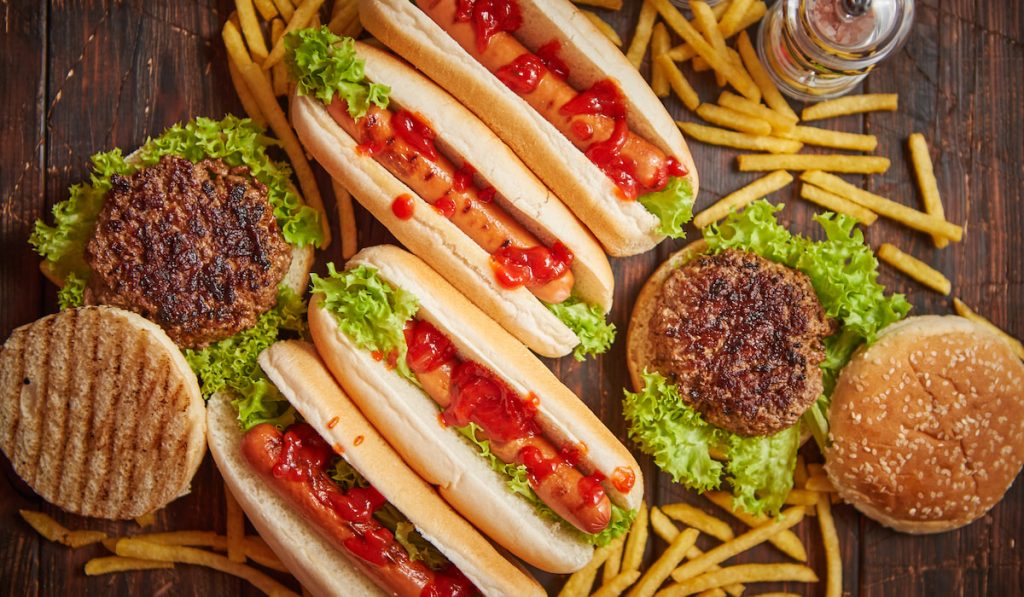 Hamburgers and Hotdogs
It may seem simple, but hamburgers and hotdogs are actually a great meal to fix on vacation for a group. Not everyone likes hamburgers, and not everyone likes hot dogs, but usually, most people like one or the other.
By making both, you provide more choices for the group, but the condiments are all the same.
Ingredients You Will Need for Hamburgers and Hot Dogs
Hotdog Buns
Hamburger Buns
Hotdogs
Ground Beef
Sliced Cheese
Mayonnaise
Mustard
Lettuce
Tomato
Potato Chips
How to Make Hamburgers and Hot Dogs
Prepare the grill if you have one available. If not, the stovetop will work.
Make patties from the ground beef.
Grill the hamburger patties and hot dogs.
Slice the tomatoes and portion out the lettuce.
Set out the toppings, and let everyone make their own burgers and hot dogs.
Serve with potato chips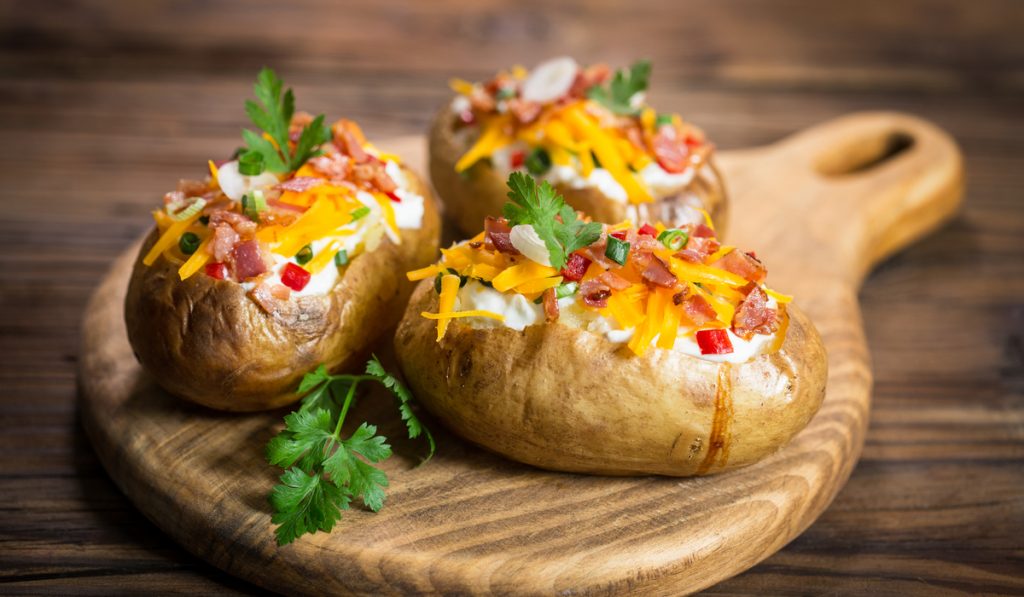 Baked Potato and Salad Bar
Making a baked potato and salad bar is a great way to keep things fresh and healthy on vacation.
This meal may take longer than the others to prepare, but it is still rather easy. The longer time frame is just because the potatoes take a while to cook.
Ingredients You Will Need for Potato and Salad Bar
A Baked Potato For Each Person (plus a few extras)
Sour Cream
Butter
Chives
Lettuce
Spinach
Shredded Cheese
Croutons
Cherry Tomatoes
Cucumbers
Bacon Bits
Dressings like Ranch, Thousand Island, and Balsamic Vinaigrette
How to Make a Potato and Salad Bar
Coat each potato in canola oil.
Sprinkle salt over each potato.
Poke holes with a fork in each potato
Cook potatoes in the oven at 350°F for between 1.5 to 2 hours.
Prepare the salad ingredients.
Set out all the toppings so group members can make their own salads and potatoes.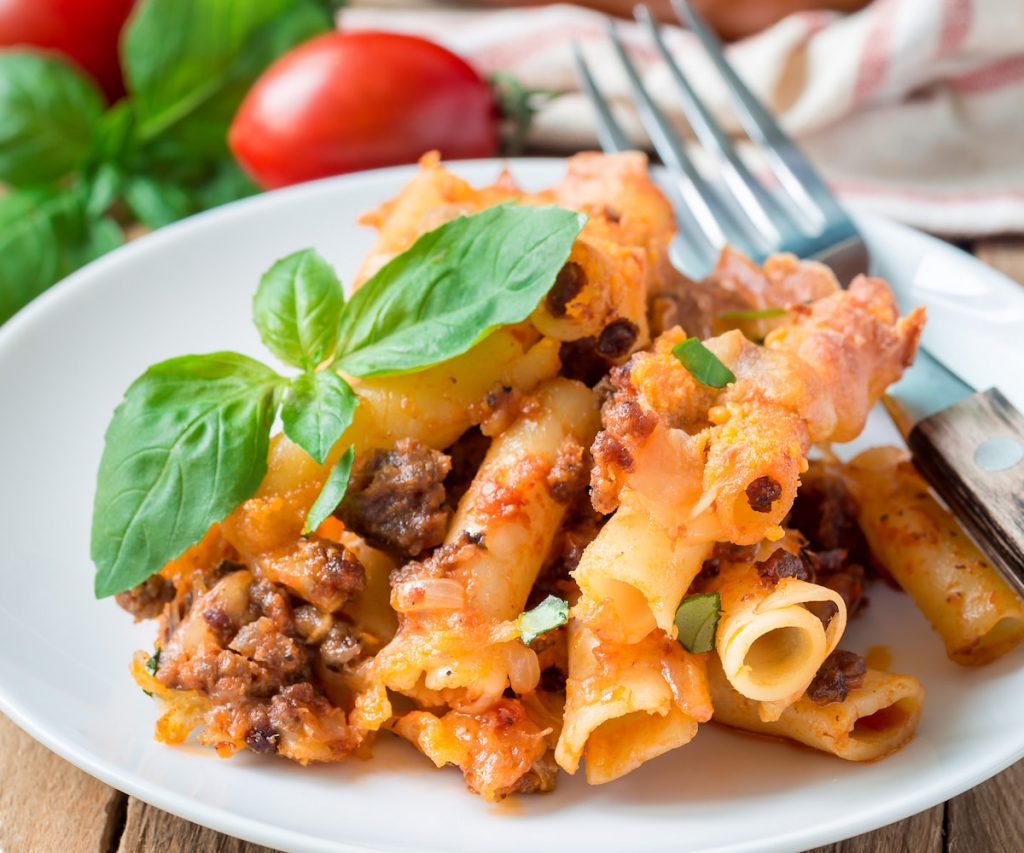 Baked Ziti
Baked ziti is a great pasta meal alternative to lasagna and spaghetti. It is almost always a great hit among vacationers, and kids love it as well!
Ingredients You Will Need for Baked Ziti
1 Box of Ziti Pasta
1 Pound of Ground Beef
45-ounces of Marinara Sauce
1 Bag of Mozzarella Cheese
How to Make Baked Ziti
Cook ziti pasta, drain, and put in a bowl.
Brown ground beef and crumble it.
Mix sauce, beef, and pasta together in a bowl.
Add to a lasagna/cake pan.
Top with mozzarella cheese.
Bake covered at 350°F for about 30 minutes.
Let cool and serve!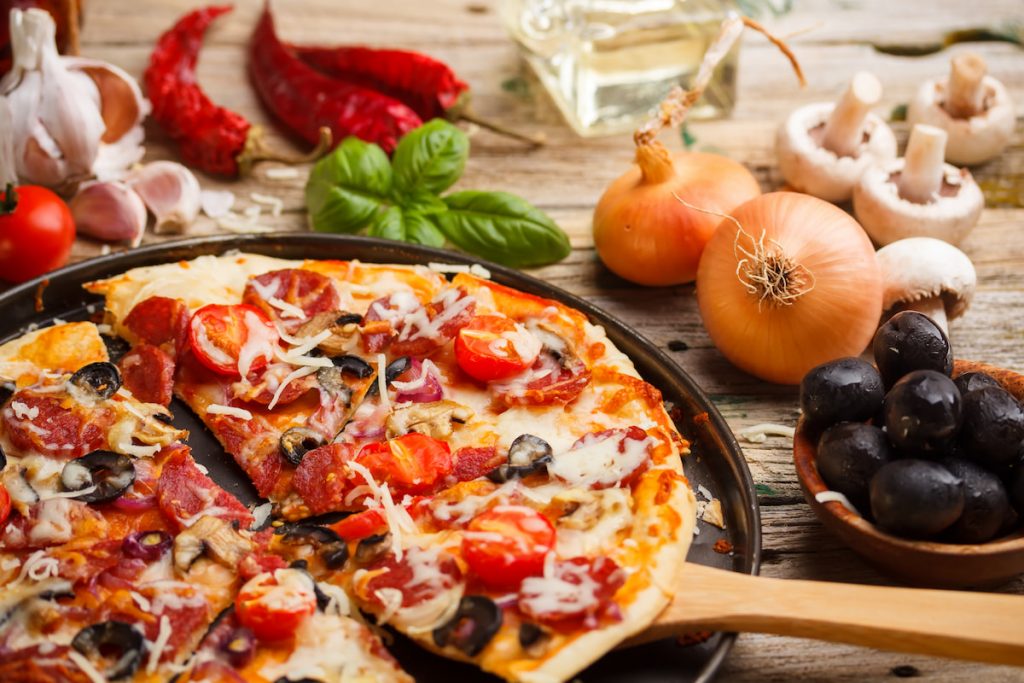 Homemade Pizzas
Instead of ordering out for pizza, another easy and fun vacation meal for a group is to make homemade pizzas. This time, the whole group can get in on the fun and make their own pizzas.
To make it even easier, buy premade pizza crusts at the grocery store.
Ingredients You Will Need for Homemade Pizzas
Pre-Made Pizza Crusts
Pizza Sauce
Pepperonis
Mozzarella Cheese (Lots)
Mushrooms
Onions
Bell Peppers
Ground Beef (Cooked)
How to Make Homemade Pizzas
Simply set out all the ingredients and let everyone make their own pizza!
Cook each pizza between 10 and 15 minutes, according to the directions on the packaging for the pre-made pizza crusts.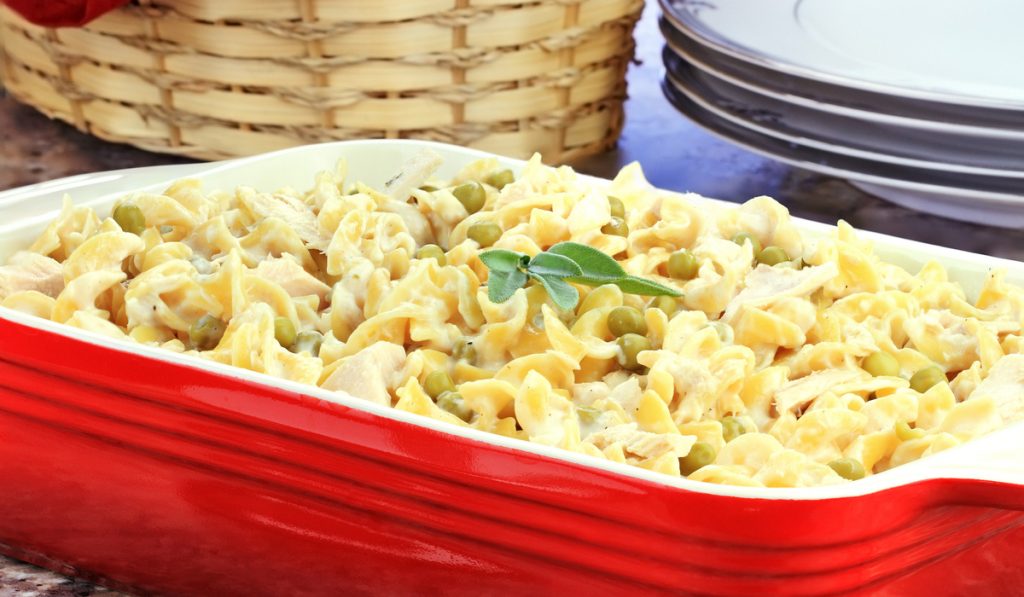 Simple Chicken and Egg Noodle Casserole
This is perhaps the simplest chicken casserole you can make. It is a great idea for an easy vacation meal for a group.
Each batch will feed about 4-5 people, so keep that in mind when shopping for ingredients.
Ingredients You Will Need for Chicken and Egg Noodle Casserole
1 Bag of Egg Noodles
1 Pound Fresh Chicken Tenderloins
2 15-ounce Cans of Mushroom Soup
How to Make Simple Chicken and Egg Noodle Casserole
Cook egg noodles and set aside.
Cut chicken into small bite-sized chunks.
Cook chicken on the stovetop in butter or olive oil until done (opaque white).
Mix chicken, egg noodles, and mushroom soup together in a casserole dish.
Cook covered at 350°F for 15-20 minutes.
Let cool and enjoy your meal!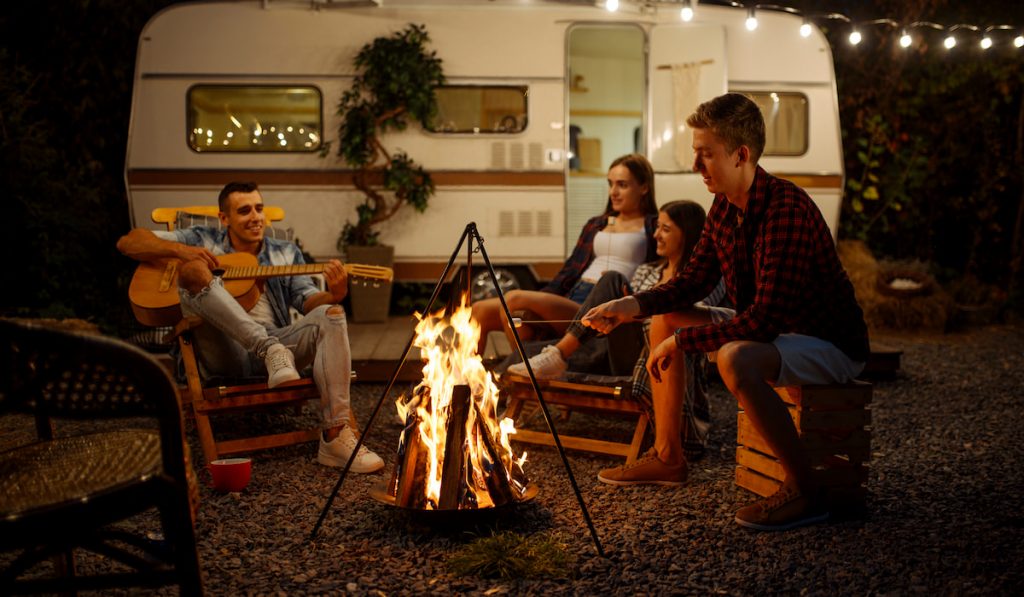 5 Things to Keep in Mind
Find Out Who Is Eating

Sometimes on vacation, not everyone wants to eat as a group. Get a headcount before heading to the grocery store, just so you know how much food to get.
Find Out If Anyone Has Allergies

Some people have food allergies that you may not be aware of. Ask ahead of time so that you know what to keep out of the kitchen.
Find Out If Anyone Has Any Special Preferences.
Some group members may be vegan or prefer not to eat a certain ingredient. Quickly run through the ingredient list with the group, just to make sure it works for everyone.
Keep It Simple
Only make one meal per night. Do not try to please everyone by making several meals in one night.
If no one can agree on what to make, choose something easy and make that.
Leave at Least One Night Open
Cooking meals on vacation can save a significant amount of money, but do not forget to enjoy at least one night at a local restaurant.
It may cost a little extra, but it is well worth the cost not to have to clean up after everyone.
Final Thoughts
Making meals on vacation for a large group does not have to be scary.
It is much easier than you may imagine if you plan ahead. Each of these options would make a great group meal for any vacation.