How Can You Make a Meal Plan for a Family of 5 on a Budget? (Things to Know)
A big family is a beautiful thing: having a baby, watching them develop their personality, feeling so proud of their achievements.
Of course, you'd want to do that more than once! So you have another baby, and then another. Three precious children for you to teach, learn from, and enjoy.
There are ups and downs, of course, but there are in any relationship. Having your three beautiful kids is totally worth it – however, the one thing you may genuinely worry about is how you can afford it.
How can you make a meal plan for a family of five on a budget?
You can create an affordable meal plan for a family of five by using short, simple recipes, buying in bulk, and repeating meals several times a week.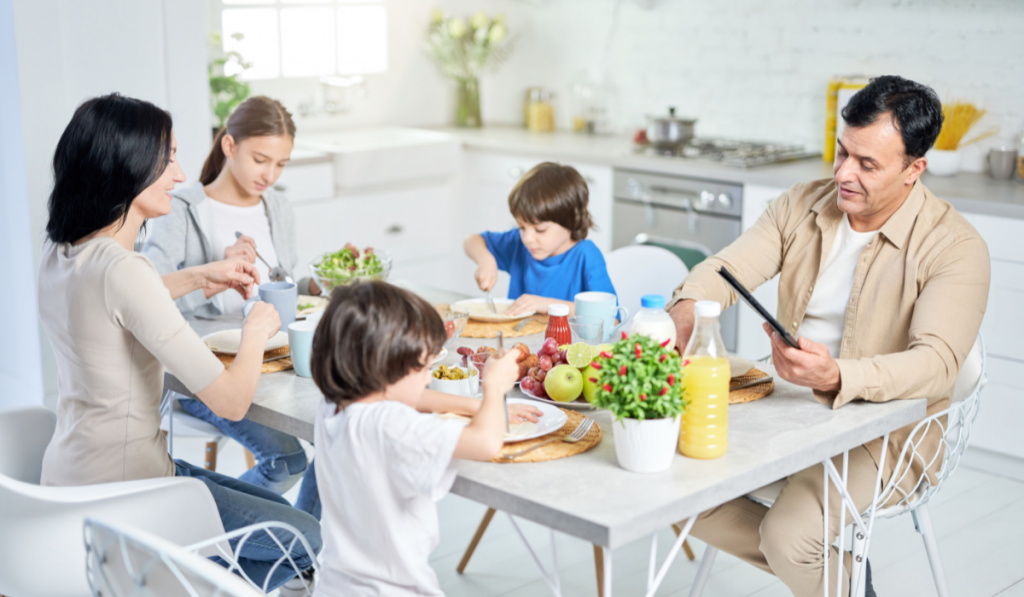 This article will discuss why it's important to create a healthy meal plan, how to do it, where to buy economical food, and more. Read on!
The Dilemma
Back in the Regency era, there were huge age gaps between husbands and wives.
We don't condone this today, but we are curious: Why was this so?
It was because most men waited until they had grown, graduated from college, and settled into a solid, stable position before they married and started a family.
They wanted to make sure they would fully be able to support a family.
In modern times, especially in the West, people don't wait so long. Sometimes couples get married as early as 19 when they're in the middle of college and can just barely take care of themselves.
Then poof! A baby! Then two more! All of a sudden, you have five times as many mouths to feed, but the budget remains the same, or possibly a little better.
How can I afford to keep going to college, pay rent or a mortgage, and pay for all other necessities for our family, including food? Food is one of the biggest necessities!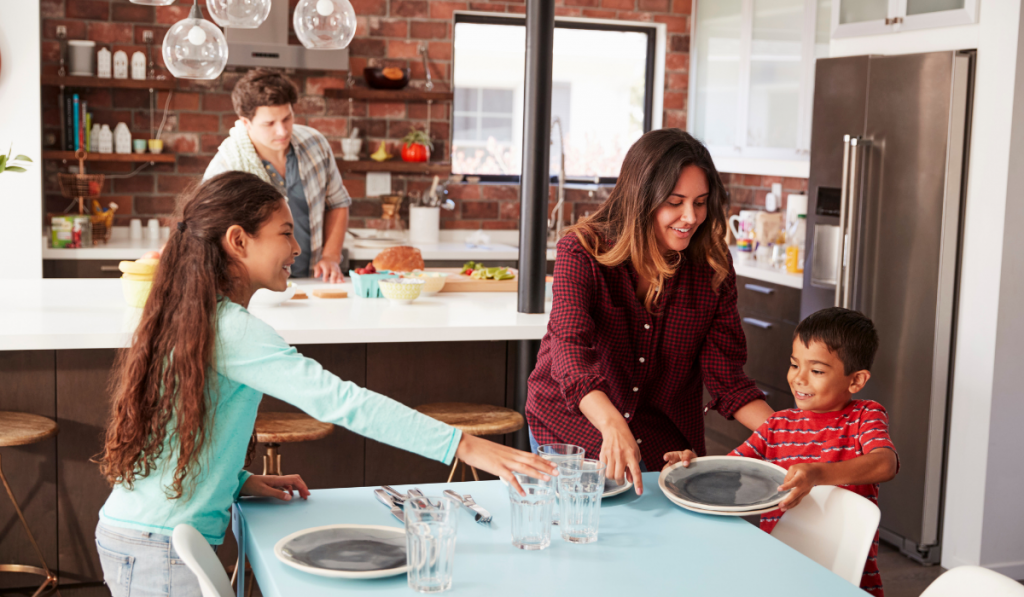 Why It's Important to Create a Healthy Meal Plan
You could most likely afford to buy fruit snacks, frozen pizza, and chicken nuggets every week from Walmart, and although it is fun to eat these foods occasionally, they are not sustainable foods to eat consistently for a long period of time.
Kids should be eating nutrient-rich foods in order to mature to their greatest and healthiest potential and to avoid any health problems in the future.
As adults, you may think you can eat junk food without too much of a consequence, but you should be taking care of your body just as much. It's your body – you have to deal with it for the rest of your life, so take care of it!
Read on to learn what should go into meal planning and tricks to make it a little easier and more affordable.
Nutrition Needs: Food Groups You Need in Your Meals
When I graduated from high school, I remember being really worried about finding food during college.
I had gotten used to high-quality meals that were nutritious and delicious, and I was nervous about what would happen to my body if I had to eat ramen every day of the week!
Eating healthily will make shopping on a budget much harder – it was for me – but it is completely worth it.
And after a while, you'll know exactly where to go and what to buy, and there won't be anything to worry about!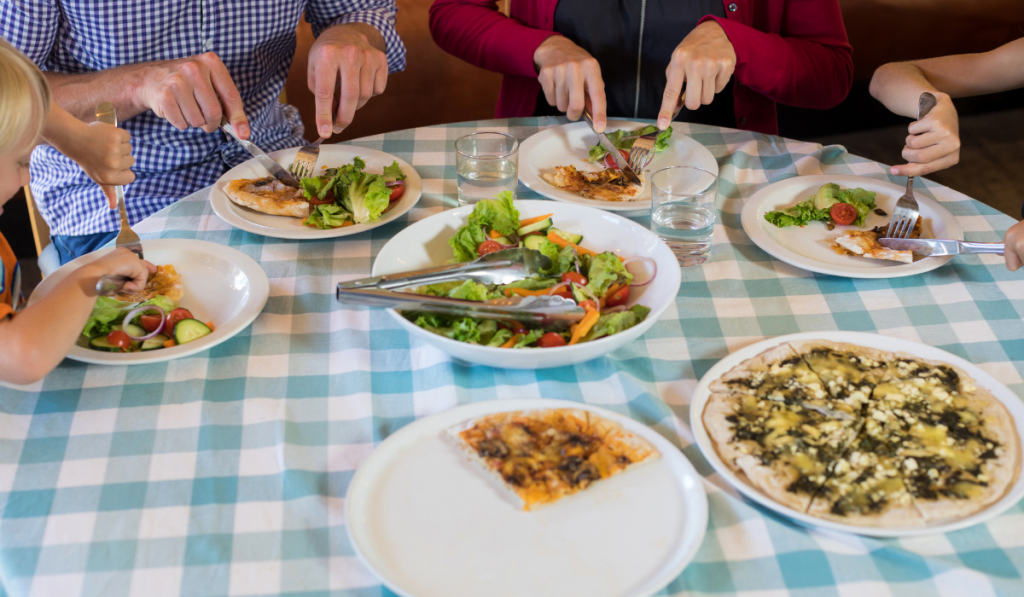 In every meal, there should be a balance of food groups in order to provide your required nutrition needs for a healthy and well-functioning body.
Calorie requirements will change as your kids get older, so if you want to know the specifics, you can look into how many calories they'll need based on their gender and age range.
This article applies to all ages: babies, toddlers, teenage kids, and parents.
So a simple way to balance food groups is to envision a plate.
If you are looking at your plate, it should be filled halfway with fruits and vegetables. Typically, you need a cup or so more of vegetables a day than fruits, so it is most likely a majority of vegetables on that half of the plate.
One-quarter of your plate should be taken up by proteins (which doesn't always have to be meat!), and the last quarter should be whole grains.
Finally, there should be a serving of dairy added to your meal, whether it is in yogurt, cheese, or milk form.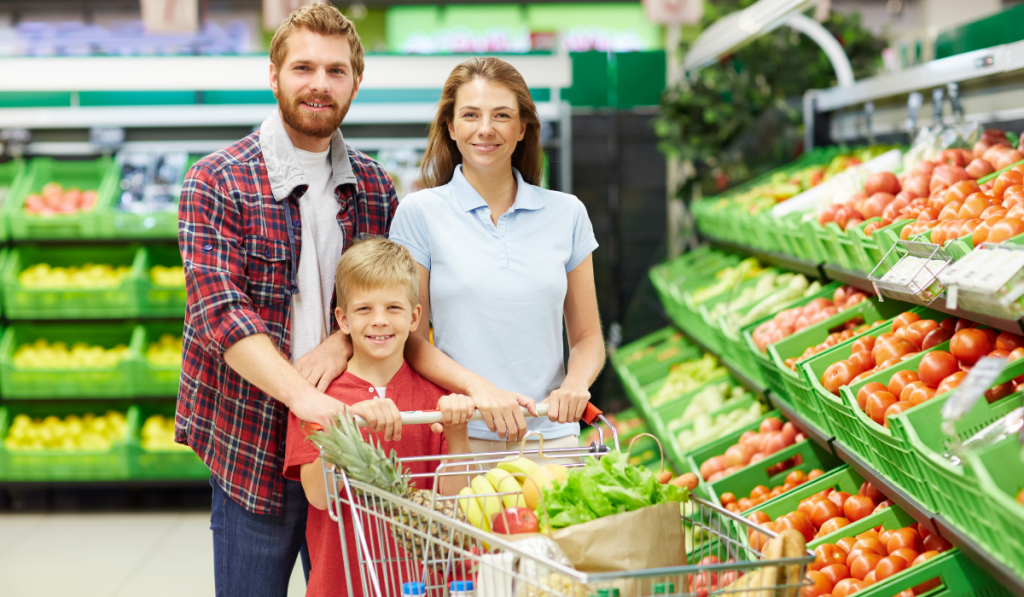 Okay, so I'll Buy Healthy Foods From These Categories. But How Much?
I think the biggest strain on your budget will be portion sizes, which will get larger as your children get older.
Toddlers and young kids need less food than teenagers and young adults, and although the foods you buy won't change, the amount of food you buy will.
Thankfully, over time you'll typically make more at your jobs and can grow your budget along with your children.
When you're a fairly new parent, you won't need to worry as much about your kids eating you out of the house!
So based on the calorie needs of your children (calculated by age), you'll know how much of each food group you'll need to buy.
Toddlers, ages 2 to 4, need between 1,000 and 1,400 calories a day (the higher end of the spectrum for boys or highly active tots).
Children ages 5 to 12 need between 1,400 and 2,200 calories.
Teenagers ages 13 to 18 need between 2,000 and 2,800 calories a day.
As adults, you need between 2,000 and 2,600 a day.
How Can I Afford a Healthy Meal Plan?
Next, decide how many different meals you'd like to make.
As a college student, I ate the same lunch and dinner all week, which saved me a lot of money. I would make it all at the beginning of the week and dish up a portion for every meal, which saved a lot of time because I wasn't making my food before every meal!
If you're really pushed for money, it may be in your best interest to take this route. Buying in bulk from places like Costco or making meals with simple, cheap ingredients will also save a lot of extra costs.
However, you'll want to make sure your meal plan is something your family is on board with.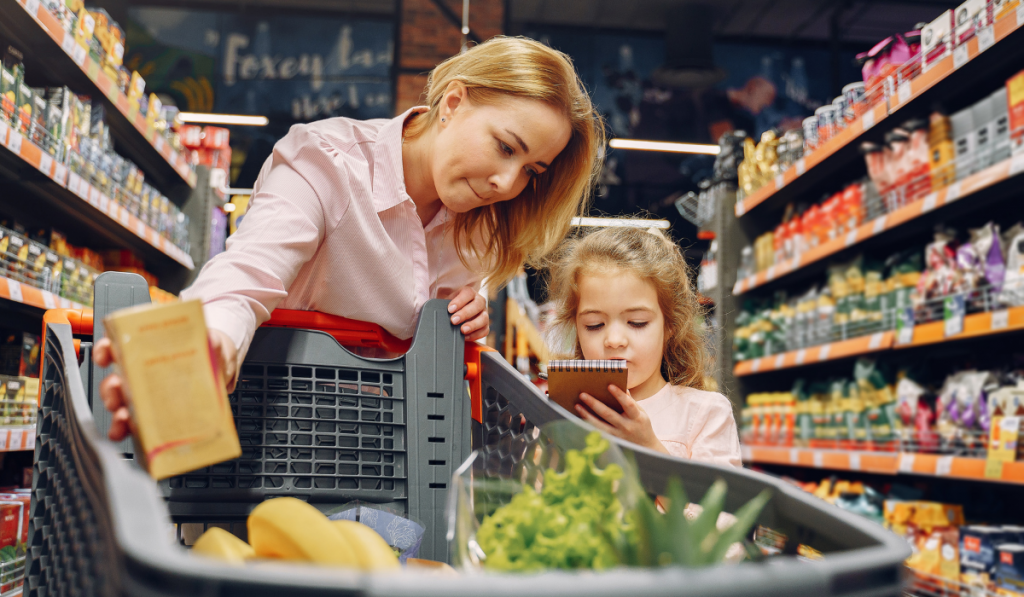 If you think your kids – or your spouse – will get tired of the food after a few days, then you'd actually be wasting money, and it is better to make multiple dishes in one week.
Start with one set breakfast, lunch, and dinner per week, and add more from there.
Maybe your family can't go a whole week eating the same thing, but they're good with alternating and eating the same meal every other day.
Or maybe your family is fine with having a new meal, then leftovers, and then a new meal for dinner three times a week. Experiment or have a discussion and see what everyone is happy with.
Where Can I Buy Affordable Food?
Say your family is good with having the same food two days in a row. Perfect!
And you know that with teenagers, you'll all be having approximately the same amount of food as them each meal, which gives you a good idea of how much you need to buy.
Now what? Find the right affordable store for you!
As I said before, buying in bulk is cheaper overall, but it will only be worth it if you eat a lot of the same foods all week.
If this sounds like your family, I would suggest investing in a Costco membership, which offers many other deals aside from bulk prices.
The best-case scenario would be if you have a farmer's market nearby or a market selling locally grown products.
These products will be much more affordable than those in commercial grocery stores because they are native to the area and don't have added preservatives, so they stay fresher longer.
Some stores are known for their organic products, such as Trader Joe's, Whole Foods, and Sprouts, but they will lean towards the expensive end of grocery prices, which we are trying to avoid.
Typical grocery stores, like Giant, Smith's, Dick's, and Macey's (common where I live), may even be too expensive for your wallet. Grocery stores like Walmart, Aldi, and Liedel are cheaper.
In my area, I have found Target to be an affordable place to buy my groceries, and I buy my produce at a market near my house.
Experiment and try out different grocery stores until you find the one that fits your needs best, both in quality of food and budget.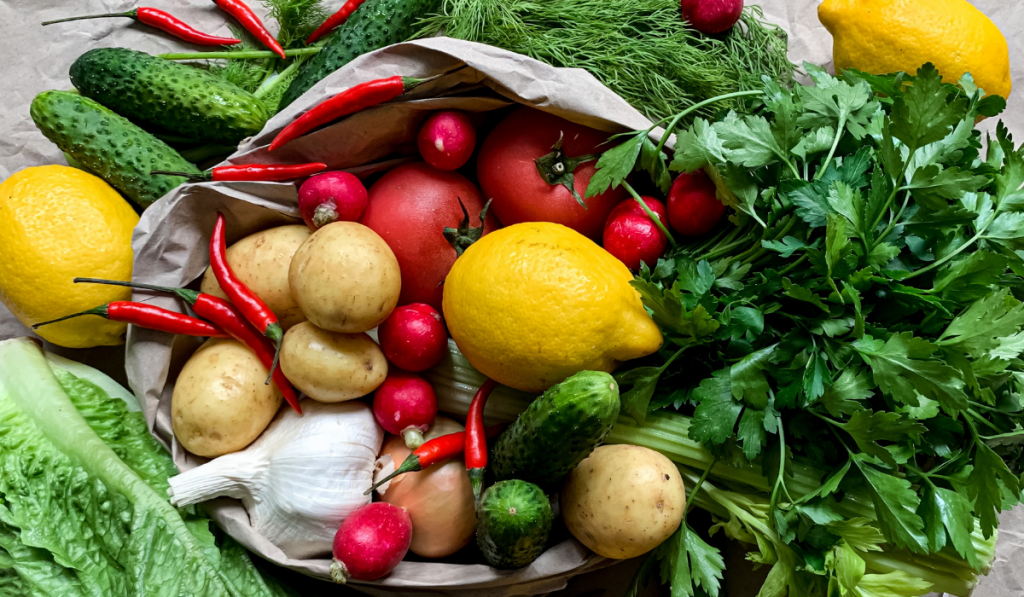 How to Keep Your Meal Plan Simple
You've established what needs to be eaten at every meal, how much each person needs to eat as an individual and collectively as a family, and finally, where to find the cheapest and highest quality foods.
So how do you keep your meal plan simple?
Make Meals in Advance
I recommend making the meals in advance if you're a busy family so all you have to do is reheat and go!
Buy Natural Foods
Typically, the foods with the shortest ingredient list are the healthiest (unless one of the first ingredients is sugar!), and if you can recognize every ingredient, then it is the most natural as well, which is what we're aiming for.
Make Simple Recipes
A good thing to keep in mind when trying to achieve this healthy yet affordable meal plan is to keep the recipes simple!
When healthy recipes call for a huge list of ingredients, the cost shoots up, and usually, you only need a small amount of each!
What a waste when you're trying to stay afloat financially.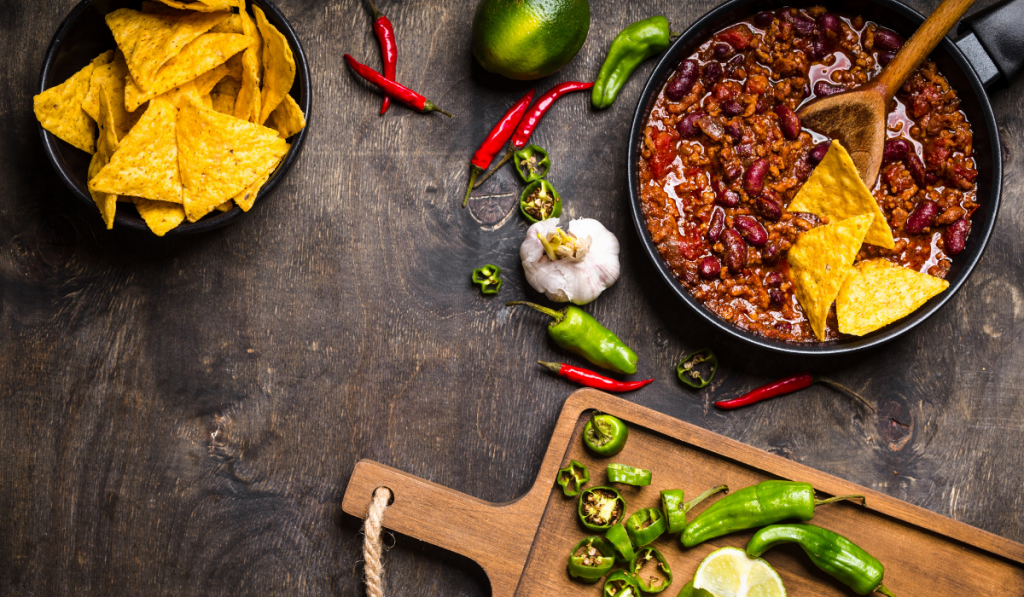 Chili for a Family of Five
For example, here is a chili recipe that tastes amazing and only has four ingredients:
Single Serving (5 people)
1 21oz. Can crushed tomatoes
1 Container of ground beef or turkey
1 White onion
1 Packet of chili seasoning
Cook the meat and onions in a skillet.
Then add them and the rest of the ingredients to a pot and cook until hot!
You can sprinkle cheese on top and eat it over rice, baked potatoes, or with cornbread.
Chili is delicious, and it's such a cheap thing to make! Find recipes that have a short list like this to save that money and keep your family of five eating natural, whole, healthy foods.
Final Word
Meal planning for a family of five can be affordable and simple if you use simple recipes, repeat them throughout the week, and buy in bulk from affordable stores.
Resources